Top 6 bathroom design ideas and decorating trends for 2023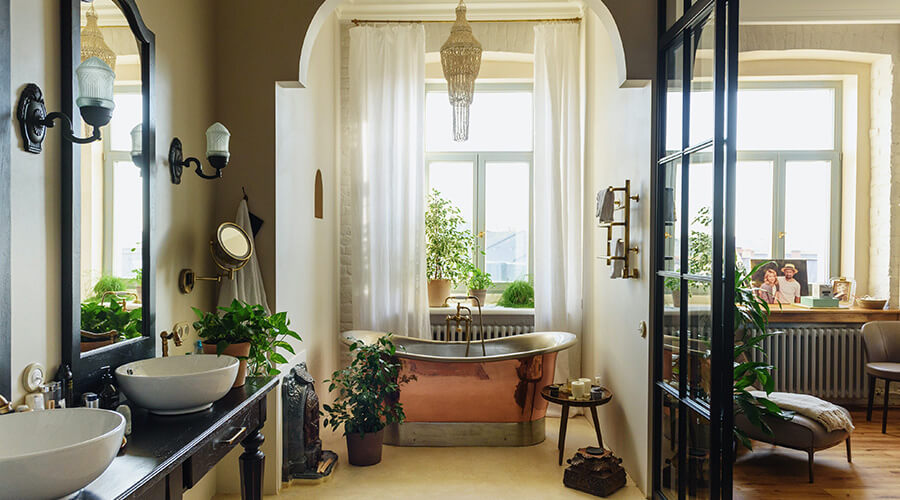 2023 is the year of embracing the past through bathroom design styles from different eras. The bathroom is the perfect space to experiment by making a statement and getting creative. The bathroom is one of the most used rooms in the house, so functionality is undoubtedly the primary concern, however, the space is incredibly versatile when it comes to interior design. Our bathroom design experts are here to share their favourite bathroom trends for 2023, to inspire your next bathroom's décor.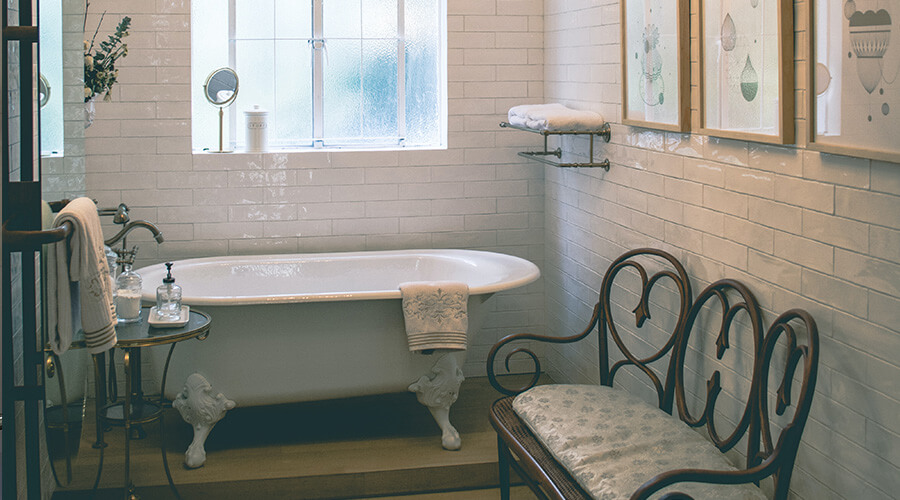 Maximalist bathroom inspiration
Get inspired by Victorian interior design that's layered, ornate, and eccentric. Bring character and personality to the bathroom space with wood panelling, patterned wallpaper, vintage features and scalloped details.
Floral, or pinstriped tiles and wallpaper pack in plenty of character. Traditional Victorian pedestal sinks are an eye-catching feature, even more so when paired with brass or bronze hardware. Complete the style by filling up your walls with ornate mirrors or artwork; great additions to the bathroom walls, as are Victorian penny tiles that have been around for more than a century. They're making a big comeback in the contemporary bathroom tile world this year!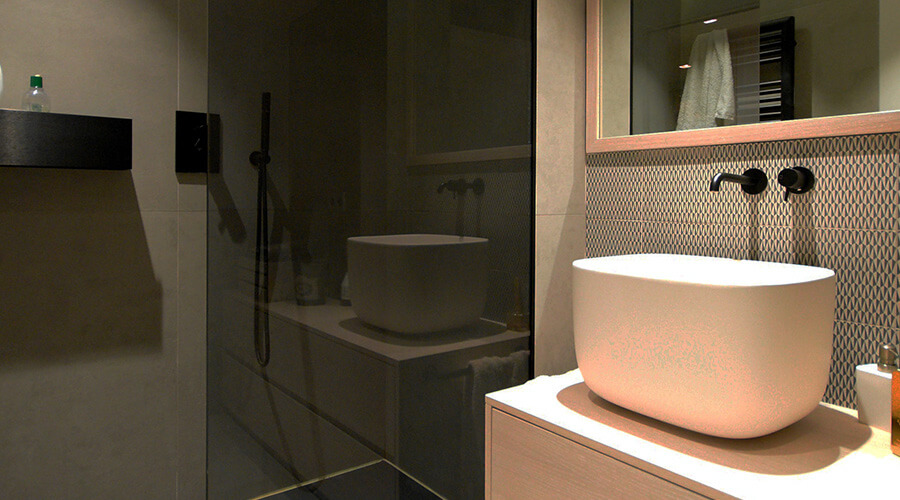 Scandi bathroom inspiration
Scandi design is defined by clean lines and neutral shades with practical storage that's multi-functional and made from natural materials. In 2023, the all-white minimalist look is beginning to fade out, so if simplistic bathrooms with lots of light are your thing, Scandi inspired Nordic pastels such as dusky pink, blush, and peach hues may be colours you can incorporate into your bathroom décor.
Pair with sleek black, chrome or white fixtures, and geometric patterned tiles for an eye-catching design element that can be incorporated with streamlined fittings, whilst keeping the overall style refined. A well-lit mirror adds subtle warmth and elegance to perfectly finish any Scandi space.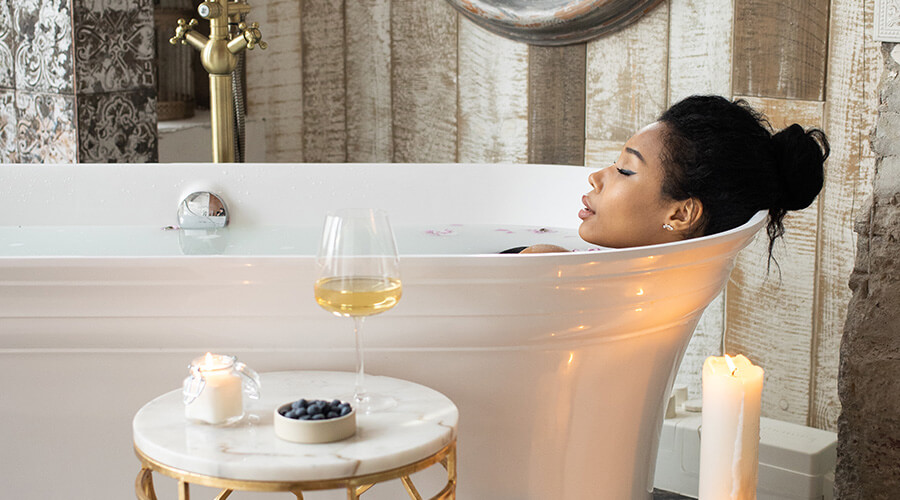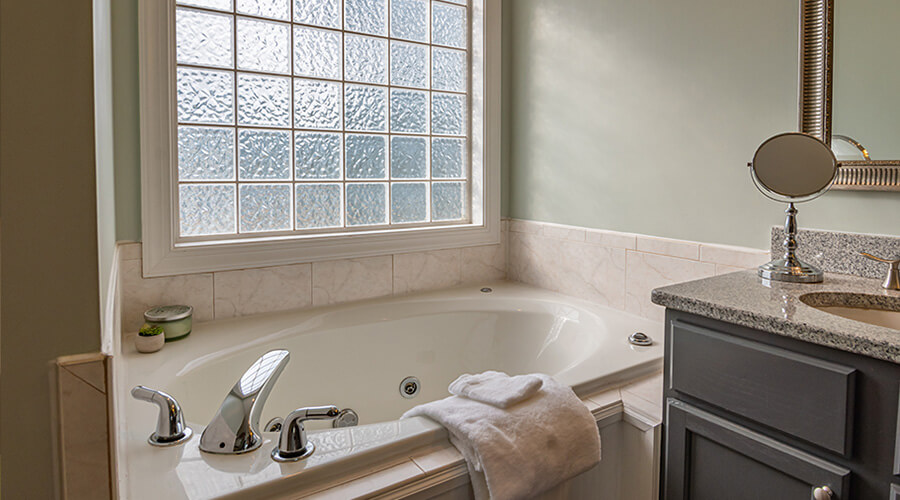 French country bathroom inspiration
The rustic and traditional style of the French country chateau can make for a stunning bathroom. Ditch tiles and opt for limewash walls that give the bathroom an artisan feel. Limewash is natural, more eco-friendly, and creates a textured wall surface with a beautifully calming finish.
Pair with natural materials such as wood or stone surfaces and flooring. Matt grey, duck egg blue, and sage green complement this shabby-chic style of bathroom. When it comes to the suite elements, free-standing tubs and bath-shower combos are the way to go to perfectly finish off a French Country bathroom.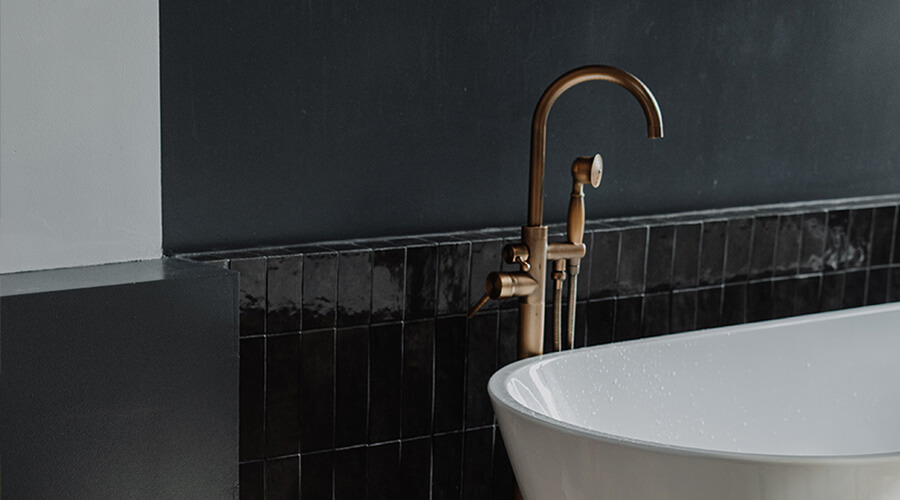 Contemporary gothic bathroom inspiration
Gothic is an unusual choice for contemporary bathroom design, however, it has a stunningly unique impact. Dark colours, such as rich blues and dark greens give the initial 'wow' factor, whilst industrial style features, exposed pipe work & brass hardware work well together to create a feeling of grandeur and opulence.
New York City subway tiles, debuted in 1904, are highly fashionable in 2023 and a dark colour tile complements the contemporary Gothic magnificently. Infuse some sophistication and drama into your interior design scheme.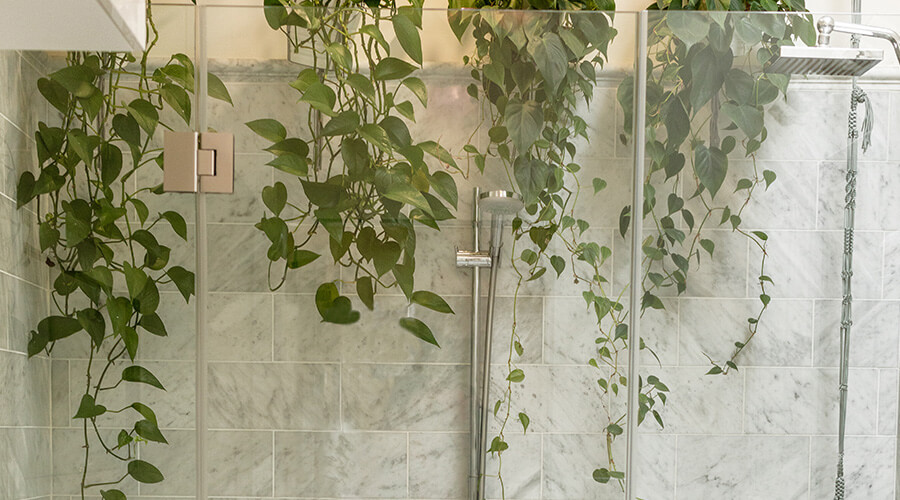 Tranquil tropical paradise bathroom inspiration
Bring the outdoors in by designing a bathroom inspired by your favourite tropical destination. House plants thrive in a humid environment, making the bathroom the perfect place for greenery. Hop on the hottest bathroom trend; Terrazzo tiles which are made from precast marble. Terrazzo tiles are tough and durable, so a perfect choice for bathroom flooring and wall tiles.
Outdoor hues such as sandy beiges, warm ochres, and dusky browns will transport you and your guests to warmer climates. Add a frameless glass shower to really be at one with the serene space you've created. An open-spout mixer faucet emulates the cascade of a waterfall, and for functionality, it perfectly mixes hot and cold water.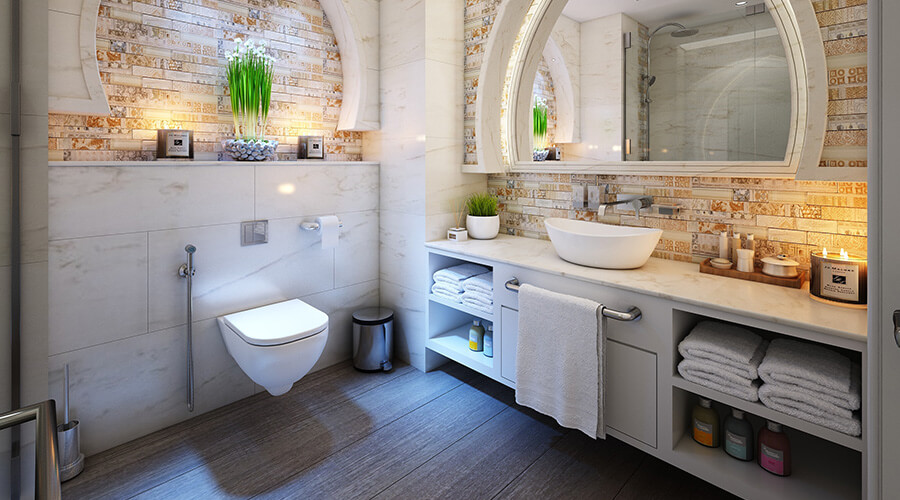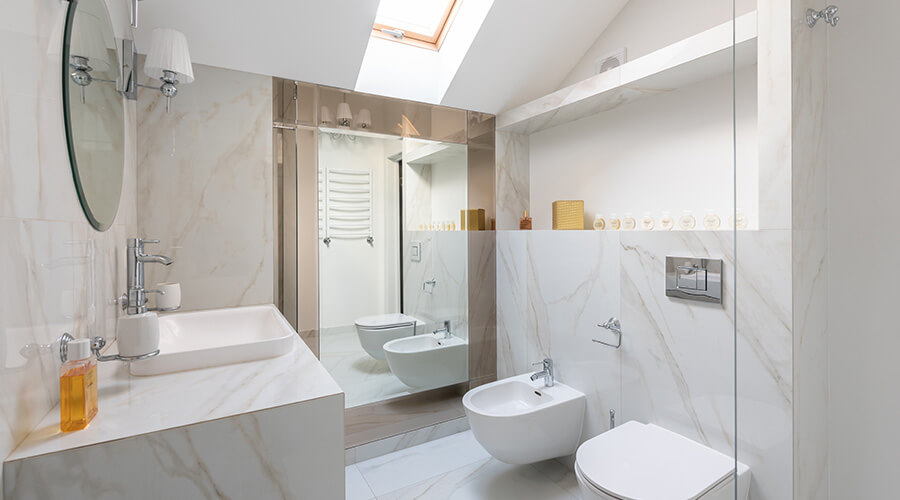 Dramatic polished marble bathroom inspiration
Chic and Luxurious, marble brings glamour to a range of different style bathrooms. Pick from floor to ceiling marble, tiled marble sections, or marble countertops. Marble's popularity began in ancient Rome and Greece, and in the 1950s and 60s marble was substituted for cheap and colourful laminate countertops. In 2023, marble is once again a trend growing in popularity.
Hang a back-lit mirror on your marble wall for a touch of Hollywood glamour. It is tempting to rip out the bath and install a walk-in shower, however, freestanding and roll top baths are a focal point and can create a spa like feel. Incorporate metallic fixtures, like brushed or champagne gold, for ultimate luxury. If you're feeling particularly fancy, add plush elements such as rugs and soft seating for the epitome of comfort. Decorative pendant lighting can contribute to the opulent atmosphere, whilst adding a sculptural element in keeping with the theme.
If you've fallen in love with any of these 2023 bathroom interior design trends, and want to incorporate them into your home, our expert designers can help you make this a reality. Contact us today to discuss your wants, needs and requirements, and our team can tailor their approach to suit your desires, whether you are after a luxury bathroom design or a more practical and affordable bathroom. Schedule a consultation today and we will be in touch to help make your dream bathroom a reality!
We even offer 20% off on our bathroom installations! Create your dream bathroom with us today!