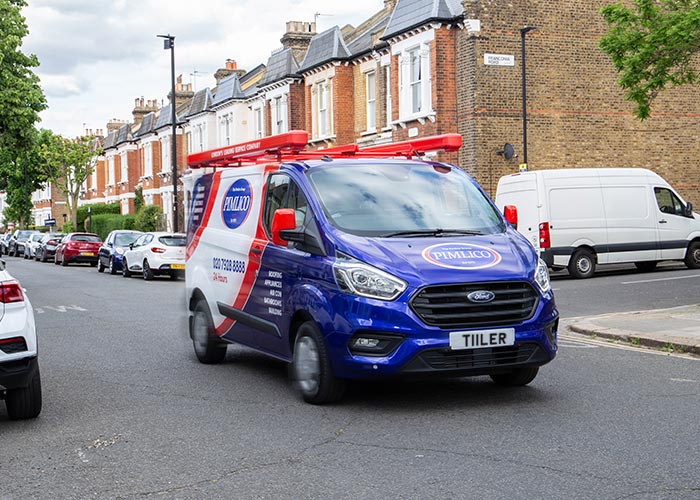 Our guttering services
As guttering specialists, we are proud to offer reliable services for a large range of issues, from guttering repairs to replacing guttering and fascias. Our team of experts are highly knowledgeable and can consult on queries such as the best type of guttering for your home, how much it will cost to replace, and any other questions you may have. Contact us today to see how we can help you with your guttering and fascia needs.
Guttering repairs
A leaky, or blocked gutter isn't just a nuisance, but can cause damage to your home. If a gutter isn't functioning properly, it won't drain away water from your roof, potentially causing a host of moisture related issues, such as damp, condensation, and eventually mould. As guttering repair specialists, we can help to fix leaky gutters, blocked gutters, and otherwise improperly functioning gutters. This is just one of our many services, so contact us to see how we can help solve your gutter issue.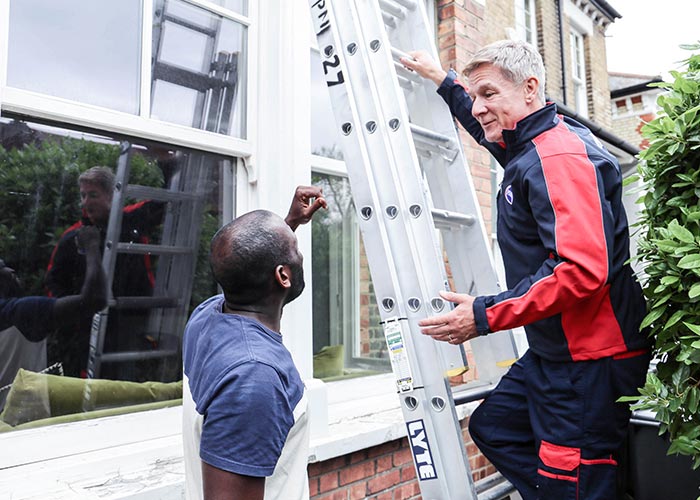 What our clients say
We are proud to support our clients across London with first class property maintenance services.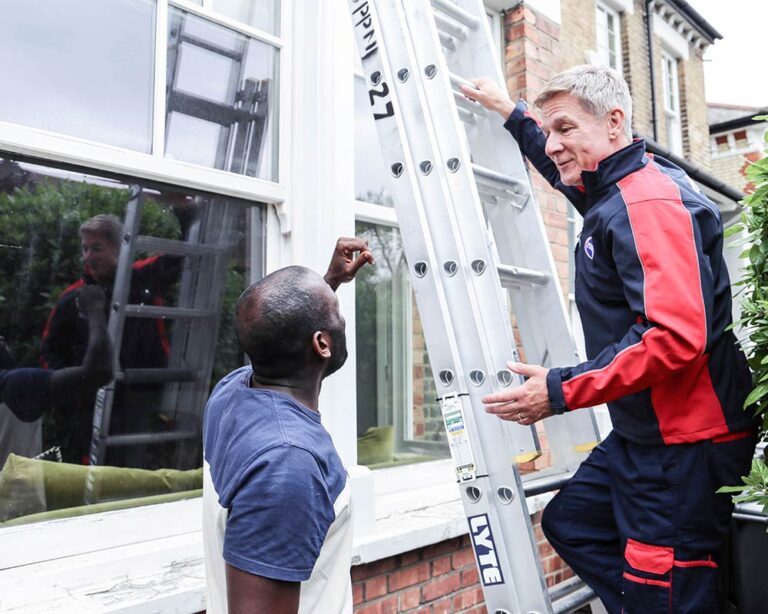 Boiler replacement and radiator move very professional
James and Andrew spent 2 days replacing the boiler and replumbing radiators. Highly professional approach, keeping all their equipment tidy, insuring all replacement work was of the highest standard and fully compliant. It's not cheap, but you get real peace of mind with the work done.
Quick to reply and fix the issues in an expert manner
The engineer was very experienced and sorted out the issues very soon. I am very happy with the services!
So impressed
So impressed - fantastic electrician Andrew fixed the kitchen under-cabinet lights that were flickering. He diagnosed and fixed the issue incredibly quickly, replacing the LED-driver unit with a brand new one and also fixed another electrical fault which he discovered.

Super friendly, professional and expert.

Highly recommended 10/10
The level of service and the response time was amazing
Thank you!
Good service
Used a locksmith from Pimlico who completed works to a high standard and was fully equipped. At the end, offered if there was anything other carpentry work they could do. Quite pricey but a no fuss experience so very worth it
Pimlico Plumbers great
Very efficient and respond quickly. More expensive but work completed is very professional and reliable.
Radiator Valves
Installed a new hot water tap a few days ago and have also been to fix our heating. Drained the heating system and replaced 2 leaking radiator valves. Great job
Pimlico Plumbers deserved 6 stars
Pimlico Plumbers really offer a five star service. Their work is excellent, and you can trust their time estimates etc. We have used them several times and been satisfied every time, They are not the cheapest, but they get it right first time! All of the people I have met are pleasant, friendly and efficient.
Excellent service
Excellent service. At the house with 30min and fixed the plumbing issue very quickly. Made sure everything is in order cleaned up and asked if I wanted anything else. Very polite and knew his stuff. no waiting time. strongly recommend
Seamus is a superb 1st class electrician
Seamus is a superb 1st class electrician thorough, hardworking and concise in his work and communication.
Happy New Customer
Excellent service, arrived on time and hot water tap working perfectly. Would highly recommend and Mick was a star!
I contacted Pimlico and 45 minutes later
I contacted Pimlico and Darren, a drains specialist arrived inside 45 minutes. Within another 45 minutes he'd found the cause of my drain blockage, cleared it and cleaned up after himself. Great service.
The Best
Adam came out at short notice to help us. We've used PP before. The very best and worth the cost. The job is always done properly to the highest standard.
Annual gas check
Annual gas check including boiler and gas fire place. The service received was excellent and the work was carried out in a very clean and timely manner by Pimlico Plumbers.
My new boiler had developed a small but definite leak
Continuity of care is important to me, so it was a pleasure and a relief when Julian arrived to fix it.
I always appreciate his expertise and kindness .
Definitely my knight in shining armour!
Thanks Julian
Excellent
Couldn't have been better - thank you
Excellent service
My hot water stopped working in the morning, I called Pimlico and within 30 minutes the plumber had arrived. Lee was very cheerful and competent. He diagnosed the issues, purchased the required parts, and had everything installed & working before the end of the day. Great!
Great service from Pimlico
We needed a plumber to rectify a leak under the kitchen sink. The technician turned up exactly on time and put in a full days work. As part of this he replaced the incoming pipework, valves and flexible hoses which was necessary. His workmanship was excellent and we now have a proper, well laid out and installed water & waste system as opposed to the spaghetti that existed before. Service was excellent as it has been on previous occasions when we have used Pimlico.
Happy with Service
We have been very happy with the service we have received - the problem we had has been explained to us and given us the correct information we needed to resolve the issue.
Will use again
Quality craftsmanship and great customer service
I have used Pimlico Plumbers for a few jobs in the past few years (mostly plumbing and electrical). Their workers are always polite, friendly, and considerate. They take care of your property and belongings (e.g. taking their shoes off in the house, covering/protecting surfaces, and cleaning after the job). Their work is thorough, of quality, and they keep you up to date through out the process. I highly recommend Pimlico Plumbers.
A completely outstanding job
Josh, Mike and Barry have done a completely outstanding job. In particular, I would highlight the attention to detail and quality of craftsmanship in the work implemented. All three take a real pride in doing a great job.
Thank you for putting this team on my job.
They're the true experts!
As ever the adage about getting what you pay for is very true - and with Pimlico you are getting the absolute best quality of professionals. In all of my dealings with Pimlico, I've appreciated their transparency around estimates, their advice as they've worked with me to get what I want and stay within budget, as well as their positive attitudes - not to mention the work itself which I've found to be meticulous, organised, and considerate. I'd happily recommend Pimlico for anyone else considering minor or extensive bathroom renovations, or anything else for that matter - they're the true experts!
I have no hesitation in recommending Pimlico
I recently completed a project with Pimlico which involved stripping two bathrooms and doing a full renovation of both. The project was completed on time, on budget, and to the highest professional standards. I am thrilled with the results.
Throughout the communication between myself, the contractor, and the Pimlico team was excellent. E-mails and phone calls were without exception responded to promptly, and where appropriate, action initiated.
I have no hesitation in recommending Pimlico, based on my experience.
Excellent service
Excellent service, had all the materials to replace my bathroom extractor fan. Same day service. As always very professional and efficient.
Skilled carpentry work
We had Ed Jackson, a carpenter to undertake some works of repair to wooden flooring and install two shelves in a fitted cupboard. His work was excellent, he was a pleasure to have around and we shall certainly ask for him again.
Highly experienced carpenter
This carpenter was found to be most efficient in all aspects of the work that was carried out, and highly experienced.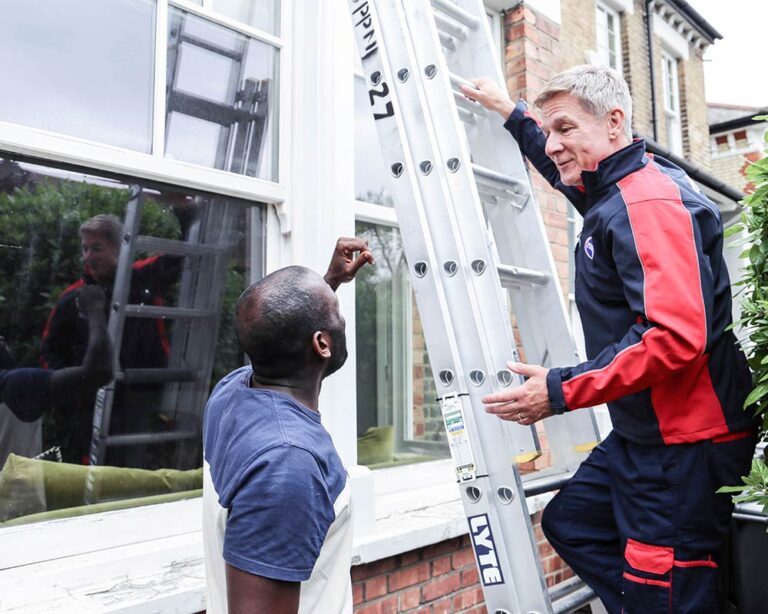 Guttering repairs FAQ's
Damp can cause severe structural damage to your property, as well as nasty odours and a general nasty look. Using any of the tell-tale signs above can help you get a head start on avoiding damp or broken pipes. The resulting problems of a blocked gutter can cause:
Black mould on walls
Mildew
Damp on the internal & external walls
Damages to the foundation of a building
The majority of 2 storey properties will require the help of professionals and the tools they have at their disposal. However, if the cause of a blocked gutter is just build-up of debris or plants, a simple power wash or hose should do the trick; granted you can easily reach the blockage. Some issues may require replacement joints, especially for leaks and overflows. The best course of action would be to contact one of our professional team to assess the problem quickly, before the cost becomes too much.
While we can estimate the price of our guttering services up front, the total cost of guttering and fascias does vary quite a bit depending on what materials your guttering and fascia is made from. For example, you could choose an aluminium gutter which may be more expensive than a PVC gutter.
At Pimlico, we advise annual gutter cleaning. Depending on the issue at hand, cleaning gutters from the ground may be the only action needed, however we won't know until inspection. We also advise the checks and maintenance take place typically after Autumn or at the beginning of Spring. This time of year it is more common to get build-up of twigs, leaves and other debris which can lead to overflow within weeks!
Soffits and fascias are the elements of the external structure of a building that are installed to protect the structure of the house. Fascias and soffits are installed in the areas where the roof ends to protect the roof. If installed correctly, fascias and soffits can prevent weather and vermin from penetrating your roof rafters and invading your roof space.
What we cover
Asphalt Roofs
Chimney Repairs
Felt Roofs
Fibreglass Roofs
Flat Roofs
Garage Roofs
Guttering & Downpipes
Lead Roofs
Lead Work
Leaking Roofs – All Types
New Roofs & Re-Roofs
Pitched Roofs
Pointing
Porch Roofs
Roof Flashing
Roof Lights
Roof Repairs
Roof Window Repairs & Installs
Roofing Carpentry
Roofing Inspections & Reports
Roofing Insulation
Single Ply Rubber Roof
Shed Roofs
Slate & Tiled Roofs
Soffits, Fascias & Cladding
Valleys & Gullies
Find your local guttering and fascia expert