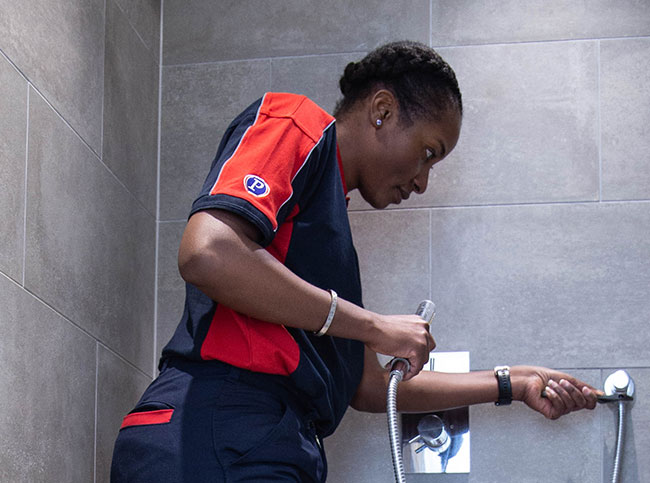 Bathroom fitting in London
Once you've sourced your new bathroom, let our team of skilled bathroom fitters manage the rest. Our bathroom fitters can take care of all aspects of fitting your new bathroom, including pipework and plumbing, tiling and grouting, fitting your bathroom accessories, and everything in between. We can even rip-out your old bathroom and dispose of it in an environmentally friendly way. We're a one stop-shop for all trades you require to complete your bathroom project, so get in touch today.
Bathroom repairs
Bathrooms get used daily so furniture, accessories and décor can often get damaged or break overtime. It's often tempting to tackle bathroom repairs yourself, but without the right experience, tools for the job and the know-how, DIY bathroom repairs can result in bigger problems that can be costly to fix. With over 40 years of experience, our bathroom repair specialists can undertake a wide range of bathroom repair and remedial works to restore your bathroom to working order.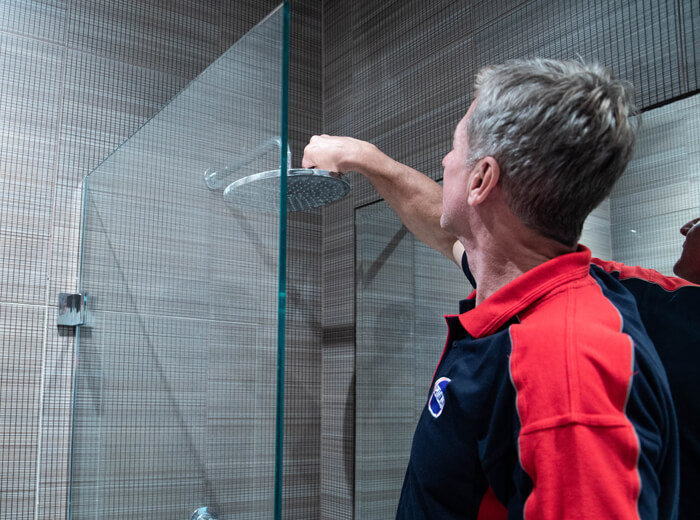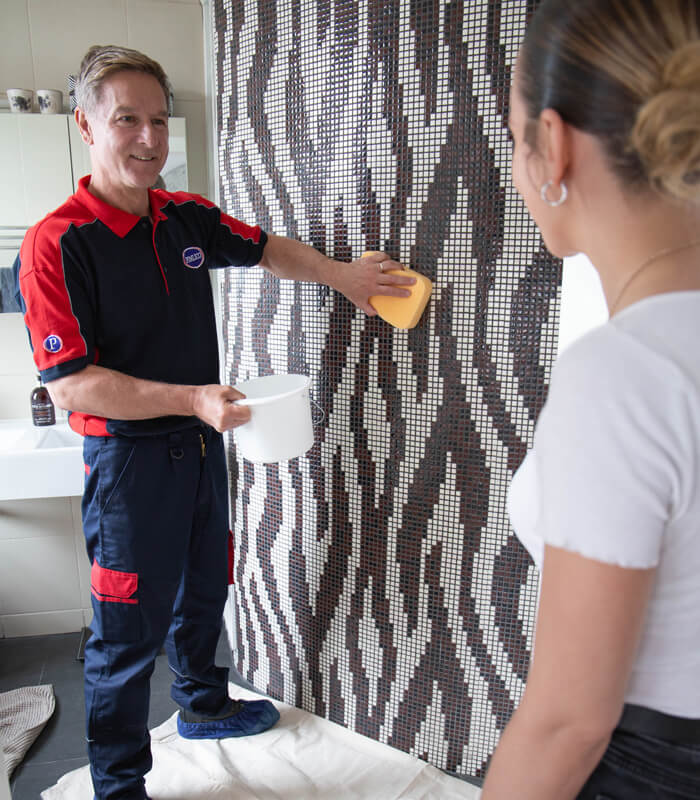 Why choose Pimlico
One-stop bathroom service

We can take care of all your bathroom needs, including plumbing, electrics, tiling, decorating and more.

Freedom of choice

Our experienced bathroom fitters can install your new bathroom furniture, fixtures and fittings to bring your vision to life.

Transparent pricing

Know how much you'll be paying for your bathroom fitting or repair with our clear fixed quotes.

Quality workmanship

Our experienced bathroom fitters take pride in their workmanship and install bathrooms with a high-quality finish.
What our clients say
We are proud to support our clients across London with first class property maintenance services.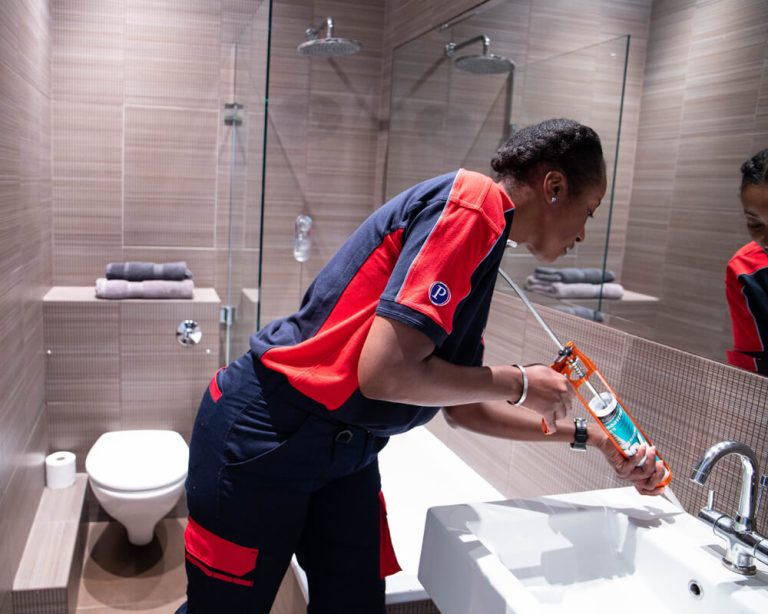 A completely outstanding job
Josh, Mike and Barry have done a completely outstanding job. In particular, I would highlight the attention to detail and quality of craftsmanship in the work implemented. All three take a real pride in doing a great job.
Thank you for putting this team on my job.
They're the true experts!
As ever the adage about getting what you pay for is very true - and with Pimlico you are getting the absolute best quality of professionals. In all of my dealings with Pimlico, I've appreciated their transparency around estimates, their advice as they've worked with me to get what I want and stay within budget, as well as their positive attitudes - not to mention the work itself which I've found to be meticulous, organised, and considerate. I'd happily recommend Pimlico for anyone else considering minor or extensive bathroom renovations, or anything else for that matter - they're the true experts!
I have no hesitation in recommending Pimlico
I recently completed a project with Pimlico which involved stripping two bathrooms and doing a full renovation of both. The project was completed on time, on budget, and to the highest professional standards. I am thrilled with the results.
Throughout the communication between myself, the contractor, and the Pimlico team was excellent. E-mails and phone calls were without exception responded to promptly, and where appropriate, action initiated.
I have no hesitation in recommending Pimlico, based on my experience.
Excellent service
Excellent service, had all the materials to replace my bathroom extractor fan. Same day service. As always very professional and efficient.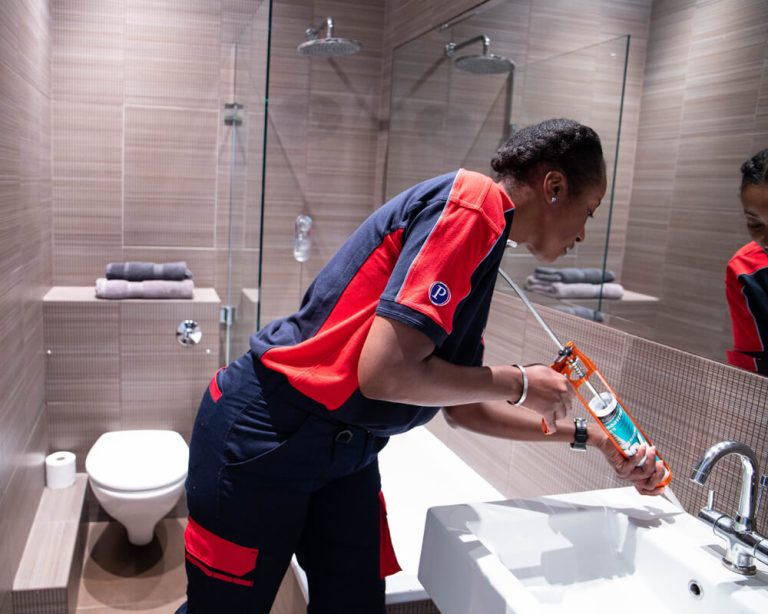 Bathroom fitting & repairs FAQs
Depending on the extent of the work required to complete your bathroom project, several trades may need to be involved. You'll need a plumber if you're replacing or moving pipework, and you'll need them to manage plumbing connections to your bath, shower, toilet and basin. If you're replacing electrical fittings such as lighting and extractor fans, then you'll need a qualified electrician too. You might also need a plasterer, decorator and tiler. As a multi-trade supplier, choosing Pimlico to fit your new bathroom means we're able to take care of all your requirements.
Bathroom renovations can range in cost with no two bathroom renovations the same. Having a bathroom fitter install a bathroom suite, fixtures and fittings that you've sourced independently may be more cost-effective than appointing a bathroom designer to manage the entire process for you. The scope of the renovation work will affect the cost too. For example, you should expect higher costs if pipework needs replacing or moving. To get a better indication of the cost of renovating your bathroom, get in touch with our bathrooms team.
If you're replacing your bathroom, then you'll likely need both a bathroom fitter and a plumber. Plumbers take care of the overall plumbing system, so they'll need to manage any plumbing pipework requirements and connections, whereas your bathroom fitter will focus on the bathroom installation itself. This will include fitting bathroom furniture and any new fixtures and fittings that you've sourced.
Our bathroom fitting and repair services
Accessible showers
Acrylic bathtubs
Bath enamel repairs
Bath leaks
Bath panels
Bathtubs
Bathroom accessories
Bathroom drainage
Bathroom furniture disposal
Bidets
Ceiling leaks
Concealed shower fittings
Digital showers
Electric showers
Extractor fans
Fitted bathtubs
Flooring
Free standing bathtubs
Grout repairs
Leaking taps
Lighting fixtures & fittings
Mirrors
Mixer showers
Painting & decorating
Pipework
Plumbing installations
Plumbing repairs
Power showers
Radiators
Rainfall showers
Risers
Sealant & mastic
Shower cartridge
Shower door hinges
Shower doors
Shower faucets
Shower handles
Shower heads
Shower hoses
Shower leaks
Shower screens
Shower seals
Shower seats
Shower trays
Showers
Sink leaks
Sinks
Smart showers
Taps
Tiling
Toilet leaks
Toilet roll holders
Toilets
Towel rails
Underfloor heating
Walk-in showers
Water softeners
Wet rooms