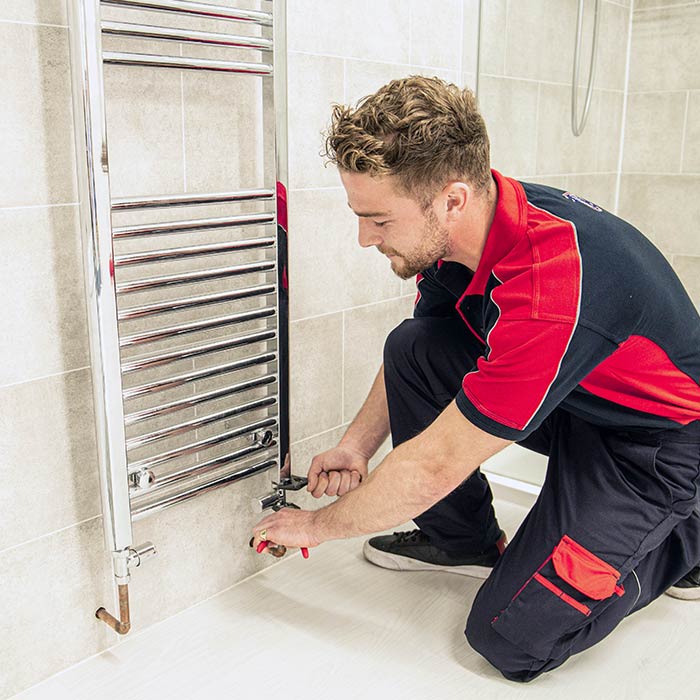 Heating installation
We offer all types of boilers, including non-condensing boilers, condensing boilers, open vent, system, combination boilers and gas boilers. At Pimlico, we make central heating installations easy with:
Transparent Costs– Our heating and boiler estimators can visit your premises and work with you on scoping the project. We'll provide you with a detailed breakdown of the costs and schedule of work. Our estimates are generally non-chargeable and last for up to 30 days.
Availability- We can adapt to your schedule and install your heating system when it's convenient for you.
Post-Installation Support- We offer regular maintenance for your heating system or emergency repairs should you need them. With us you can have peace of mind you won't be left in the cold.
Our central heating installation service
We install premium boiler brands that are safe, trusted and energy efficient. We can provide a complete package including a thermostat, pipework, radiators and any other elements required. Our Gas Safe Registered engineers will complete the work ensuring the heating installation is safe and compliant. We also provide a warranty to protect your investment. Many homeowners also take up the option of a smart thermostat option, so you can turn the heating on when you are out and about.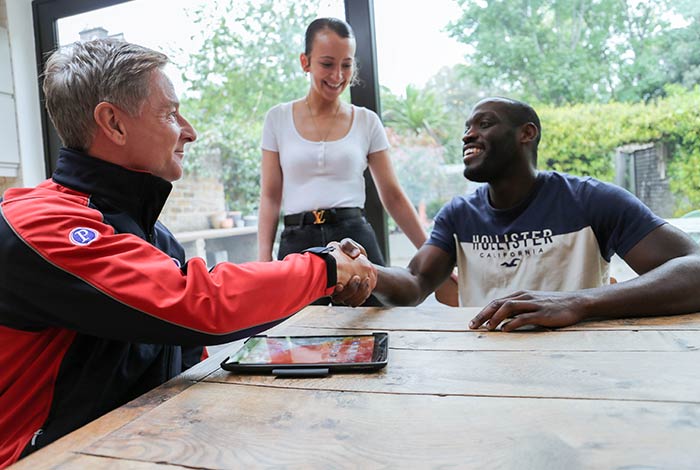 What our clients say
We are proud to support our clients across London with first class property maintenance services.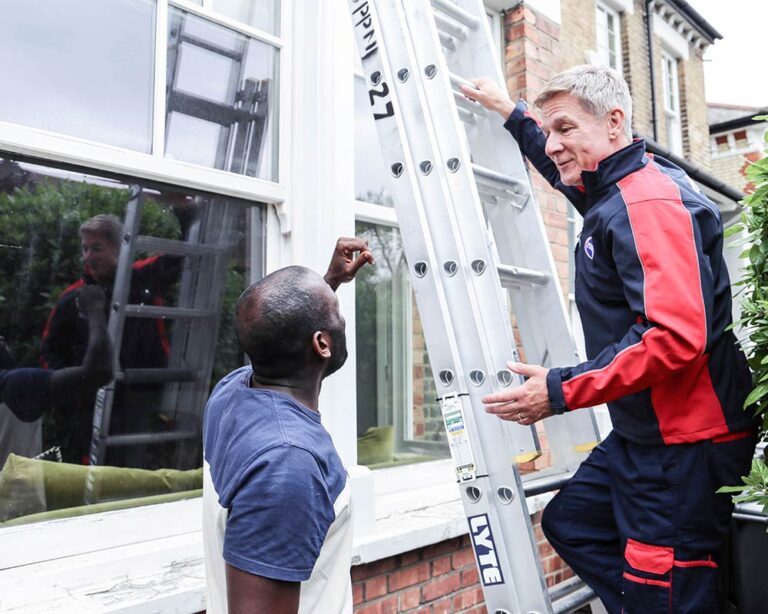 Boiler replacement and radiator move very professional
James and Andrew spent 2 days replacing the boiler and replumbing radiators. Highly professional approach, keeping all their equipment tidy, insuring all replacement work was of the highest standard and fully compliant. It's not cheap, but you get real peace of mind with the work done.
Quick to reply and fix the issues in an expert manner
The engineer was very experienced and sorted out the issues very soon. I am very happy with the services!
So impressed
So impressed - fantastic electrician Andrew fixed the kitchen under-cabinet lights that were flickering. He diagnosed and fixed the issue incredibly quickly, replacing the LED-driver unit with a brand new one and also fixed another electrical fault which he discovered.

Super friendly, professional and expert.

Highly recommended 10/10
The level of service and the response time was amazing
Thank you!
Good service
Used a locksmith from Pimlico who completed works to a high standard and was fully equipped. At the end, offered if there was anything other carpentry work they could do. Quite pricey but a no fuss experience so very worth it
Pimlico Plumbers great
Very efficient and respond quickly. More expensive but work completed is very professional and reliable.
Radiator Valves
Installed a new hot water tap a few days ago and have also been to fix our heating. Drained the heating system and replaced 2 leaking radiator valves. Great job
Pimlico Plumbers deserved 6 stars
Pimlico Plumbers really offer a five star service. Their work is excellent, and you can trust their time estimates etc. We have used them several times and been satisfied every time, They are not the cheapest, but they get it right first time! All of the people zi have met are pleasant, friendly and efficient.
Excellent service
Excellent service. At the house with 30min and fixed the plumbing issue very quickly. Made sure everything is in order cleaned up and asked if I wanted anything else. Very polite and knew his stuff. no waiting time. strongly recommend
Seamus is a superb 1st class electrician
Seamus is a superb 1st class electrician thorough, hardworking and concise in his work and communication.
Happy New Customer
Excellent service, arrived on time and hot water tap working perfectly. Would highly recommend and Mick was a star!
I contacted Pimlico and 45 minutes later
I contacted Pimlico and Darren, a drains specialist arrived inside 45 minutes. Within another 45 minutes he'd found the cause of my drain blockage, cleared it and cleaned up after himself. Great service.
The Best
Adam came out at short notice to help us. We've used PP before. The very best and worth the cost. The job is always done properly to the highest standard.
Annual gas check
Annual gas check including boiler and gas fire place. The service received was excellent and the work was carried out in a very clean and timely manner by Pimlico Plumbers.
My new boiler had developed a small but definite leak
Continuity of care is important to me, so it was a pleasure and a relief when Julian arrived to fix it.
I always appreciate his expertise and kindness .
Definitely my knight in shining armour!
Thanks Julian
Excellent
Couldn't have been better - thank you
Excellent service
My hot water stopped working in the morning, I called Pimlico and within 30 minutes the plumber had arrived. Lee was very cheerful and competent. He diagnosed the issues, purchased the required parts, and had everything installed & working before the end of the day. Great!
Great service from Pimlico
We needed a plumber to rectify a leak under the kitchen sink. The technician turned up exactly on time and put in a full days work. As part of this he replaced the incoming pipework, valves and flexible hoses which was necessary. His workmanship was excellent and we now have a proper, well laid out and installed water & waste system as opposed to the spaghetti that existed before. Service was excellent as it has been on previous occasions when we have used Pimlico.
Happy with Service
We have been very happy with the service we have received - the problem we had has been explained to us and given us the correct information we needed to resolve the issue.
Will use again
Quality craftsmanship and great customer service
I have used Pimlico Plumbers for a few jobs in the past few years (mostly plumbing and electrical). Their workers are always polite, friendly, and considerate. They take care of your property and belongings (e.g. taking their shoes off in the house, covering/protecting surfaces, and cleaning after the job). Their work is thorough, of quality, and they keep you up to date through out the process. I highly recommend Pimlico Plumbers.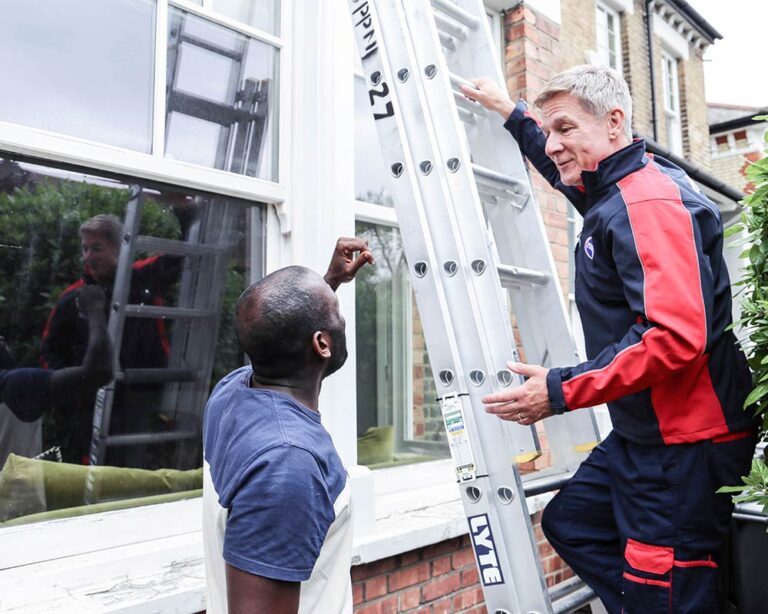 Heating installation FAQ's
Yes, all of our heating engineers are fully qualified and on the Gas Safe register.
We know that peace of mind is essential, and we're proud of the work our skilled heating engineers deliver. That's why we offer an industry-leading 12-month guarantee against faulty workmanship (excluding drainage work). When we install a boiler or central heating system, you may even also be able to benefit from our exclusive, extended boiler warranties.
We can advise you on the boiler that would be best suited to your heating system and your budget. We offer extended manufactures warranties of up to 10 years with Ideal, Vaillant boilers and Worcester Bosch boilers, which include parts and labour for your peace of mind.
What we cover
Appliance Installation
Appliance Repair
Appliance Servicing
Boiler Fault Finding
Boiler Installs
Boiler Repairs
Boiler Servicing
Central Heating Controls
Central Heating Installations
Central Heating Pumps
Central Heating Repairs
Emergency 24-Hour Service
Gas leak detection and repairs
Gas Repairs
Gas Testing & Certificates
Landlord safety inspections and reports
Ideal Preferred Installer
Immersion Heaters
Radiator Bleeding
Radiator Installs
Radiator Leaks
Radiators Noise
Thermostats
Thermostatic Valves
Power Flushes
Vaillant Preferred Installer
Vented & Unvented Cylinders
Worcester Bosch Preferred Installer
Find your local heating installation company