5 Signs You Have Blocked Guttering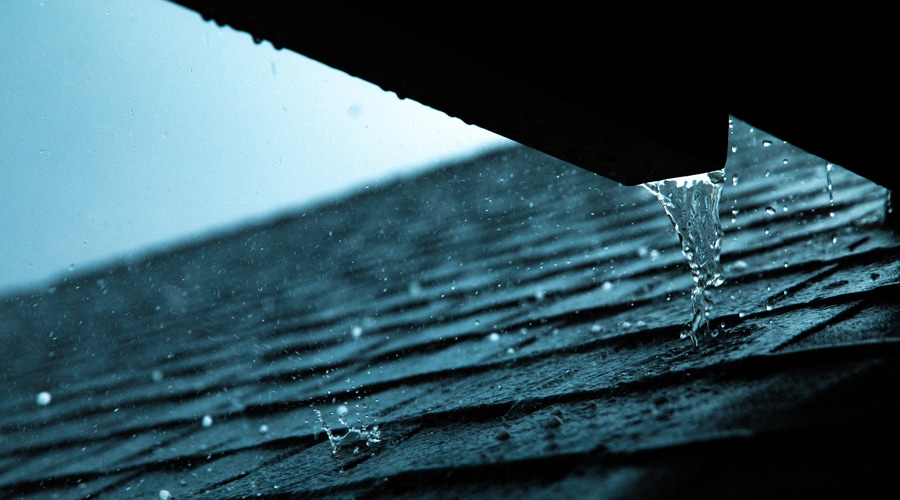 Guttering is a large source of protection for your property from damp weather conditions. In order to function as they should and keep your home safe and dry, your gutters must remain clear and clean of blockage.
At Pimlico, we advise that you have your gutter professionally cleaned and maintained to keep it operating as effectively as the day it was installed. There are 5 signs you can look out for however, if you feel you might have a blocked gutter.
1)    Does It Look Blocked?
This may sound obvious, but you'd be surprised by how many people ignore pile-ups and blockages of leaves and other debris. These can all lead to a multitude of gutter problems resulting in an expensive repair or replacement cost in the future. Without the use of a ladder, try and look for some obvious signs which can include:
Leaks forming around joints of your gutter
Build up of debris on your tiles – if there is debris on your roof it has probably made its way to your gutter
Are there birds or other creatures nesting?
Does water flow out of the downpipe efficiently and freely?
By keeping vigilant for these signs, you may be able to avoid costly repairs and maintenance.
2)    Water Spilling Over the Side of the Gutter
Although it can initially appear that your gutter is leaking, it's also possible that water is just spilling because of a clog deeper down the line. The volume of the gutter is significantly reduced if anything other than water fills it up. It can only lap over the edge at this stage or, worse, weigh the gutter down.
Water will overflow an already clogged gutter or downspout because it has nowhere else to go. This can lead to water sheeting down over your wood, walls, landscaping, or worse, into your foundation potentially causing structural damage and a costly repair.
Overflowing gutters are not always a simple fix. Whilst there are precautions that can be taken at home such as regular checks and maintenance; the safest and most cost-effective course of action is to contact your local guttering experts. The task of inspecting a gutter can be dangerous, and is best left to professionals. It may be that a splash guard, or even a mesh screen for your gutter is needed.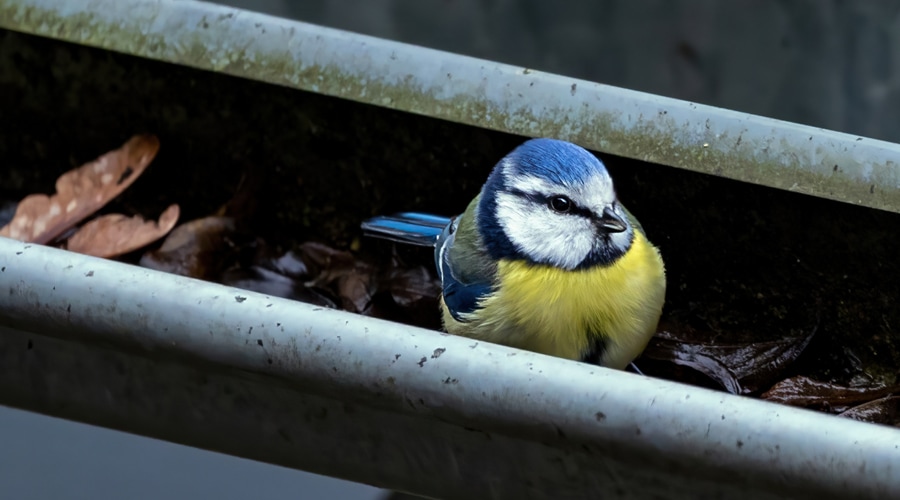 3)    Do Birds Land in Your Gutter Often?
As well as insects and small other creatures, birds that repeatedly land on your guttering could be a sign of blockage. It is likely birds are creating a nest in the readily available source of materials for nesting. Whilst birds may land all over the exterior or a property it is important to recognise repeated visits to a specific spot of your gutter.
The blocked gutter may be in need of replacement or emergency fixing if the nest grows and becomes weighty. As well as the ethical removal of the nest, it can become extremely costly if the blockage causes damp or overflow. If the nest is the sole cause of the clog, a simple removal may be the answer. However, a professional can quickly identify if there are more underlying issues to the structure of your gutter. We always advise to have regular inspections on your gutter to minimise further problems and costs down the line.
It's also important that you go about any nest-removal in an ethical way. You should never move or destroy a nest that is in use – in fact for certain bird species, it is illegal to touch an active nest. In cases where the nest is still active, you should call in a professional to help.
4)    Does Your Gutter Look Like It's Sagging?
Even after torrential rain your gutter should never be sagging or dipping. If you have noticed a dip or bend in your guttering system, it is likely there is a blockage that is creating added weight and pressure on your gutters. The more weight on the gutters, the more pressure the water will cause on joints and brackets. This can lead to the joint falling or, in a more severe case, the gutter coming free.
A blocked gutter can become weighted by any of the signs above, so it's important to identify them before a complete replacement or emergency repair is needed. The last thing you need is overflowing gutters, nesting or debris build-up from not inspecting your gutter before the problem arose.
5)    Are There Plants Growing in Your Gutters?
Similar to nesting, regular checks of your gutter for plant infestations can avoid further problems. Grass, moss, and other plants can thrive with regular water flow and sunshine, especially in a gutter. It is likely that a layer off soil is causing a clogged gutter and is therefore forming an ideal growing environment for smaller plants.
The addition of these plants can lead to any of the problems listed above. Typically, birds are more likely to nest if the materials are already in the gutter. Whilst this problem is easily fixed, it will require maintenance and repair done by professionals with a larger ladder for 2 storey or higher properties.
FAQs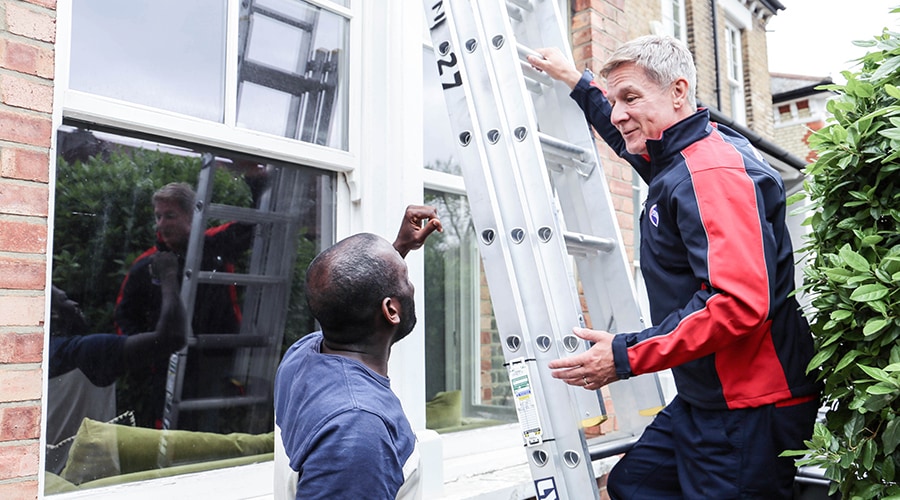 How Do You Clear Blocked Gutters?
The majority of 2 storey properties will require the help of professionals and the tools they have at their disposal. However, if the cause of a blocked gutter is just build-up of debris or plants, a simple power wash or hose should do the trick; granted you can easily reach the blockage. Some issues may require replacement joints, especially for leaks and overflows. The best course of action would be to contact one of our professional team to assess the problem quickly, before the cost becomes too much.
Can a Blocked Gutter Cause Damp?
Damp can cause severe structural damage to your property, as well as nasty odours and a general nasty look. Using any of the tell-tale signs above can help you get a head start on avoiding damp or broken pipes. The resulting problems of a blocked gutter can cause:
Black mould on walls
Mildew
Damp on the internal & external walls
Damages to the foundation of a building
How Often Should Gutters Be Cleaned in the UK?
At Pimlico, we advise annual gutter cleaning. Depending on the issue at hand, cleaning gutters from the ground may be the only action needed, however we won't know until inspection. We also advise the checks and maintenance take place typically after Autumn or at the beginning of Spring. This time of year it is more common to get build-up of twigs, leaves and other debris which can lead to overflow within weeks!
Contact Pimlico for Guttering Repairs & Maintenance In London
Have you noticed any of the signs above and are concerned that your gutter might be blocked or needs a gutter replacement/repair? Contact our professional team at Pimlico today. We aim prevent issues before they get worse, saving you large costs further down the line.