Hedgehog awareness week, 30th April – 6th May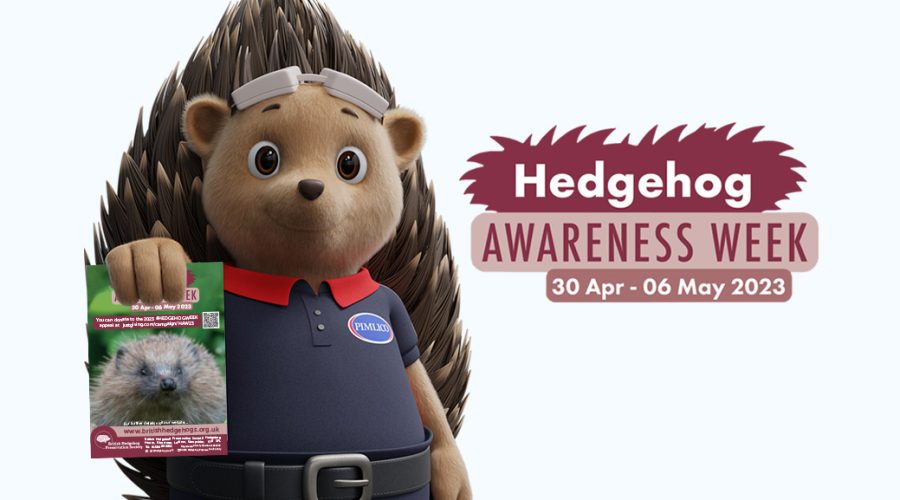 With the introduction of our loved mascot 'Dash' we're doing our bit to spread the word about Hedgehog awareness week, and how we can all 'Think Hedgehog!'
Organised by the British Hedgehog Preservation Society – Hedgehog awareness week takes place every year and aims to highlight the problems hedgehogs face and how you can help them.
Here are some top tips from the society on how you can 'Think Hedgehog' and look out for our spikey little friends.
Hazards that can be removed or improved
Try and remove or avoid putting down any poisons and pesticides.
Watch out for uncovered drains as hedgehogs can easily fall into these and get trapped
Look out for litter as this can be a danger to all wildlife.
Make sure any netting such as sports nets are put away.
Always check for hedgehogs before mowing, strimming or lighting a bonfire that they might have made a nest in.
Here a few ideas to help create your garden/space more welcoming to hedgehogs
Add a feeding station – you can easily create a feeding station to help protect the food you offer (water and meaty cat or dog food) and deter larger mammals. You can find out more on how to create one here.
Create a natural shelter using log piles, leaf pile.
Make or buy a hedgehog home – find out more about how you can make one here.
You can donate to the Hedgehog awareness week by visiting www.justgiving.com/campaign/HAW23
For more information about hedgehogs and how you can get more involved in helping head over to the British Hedgehog Preservation Society
And remember 'Think Hedgehog'