Pimlico's top tips for energy-efficient homes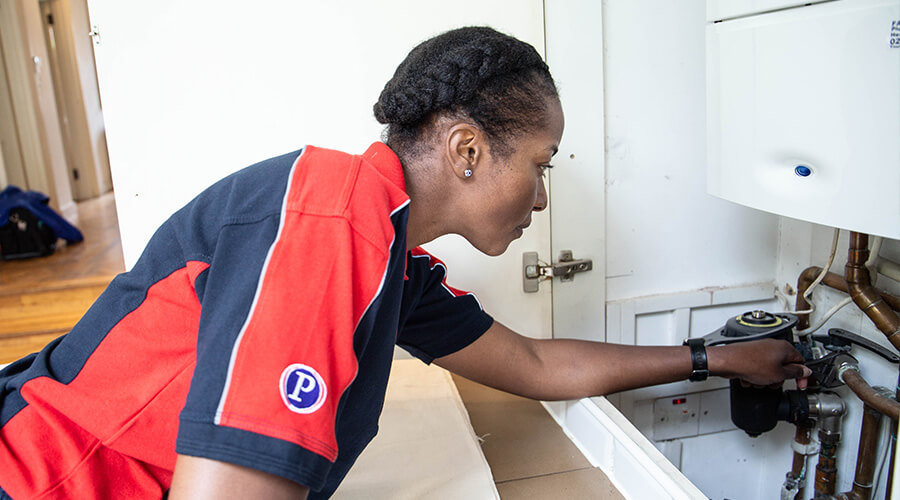 The ongoing crisis around increasing energy prices is something that has hit many homes recently. Being one of the main factors contributing to the rising cost of living in the UK, it's no surprise that rising energy bills mean a lot of us are struggling to make ends meet.
That's why reducing your energy consumption and making your home as efficient as possible should be a priority if you're looking to cut down on your monthly outgoings. In fact, energy efficient homes can save over £3000 a year in bills! Of course, the other big advantage of taking steps to optimise your home's efficiency is that it not only helps your wallet, but it helps the planet too.
To help you boost your home's efficiency, we spoke with our heating engineers, plumbers, electricians, and home experts to ask for their advice, and they gave us 5 top tips to pass on to you.
Our top 5 tips for optimising your home's efficiency:
1.     Get a boiler service
2.     Make your home SMART
3.     Consider sustainable alternatives
4.     Watch your water usage
5.     Insulate to compensate
How does boiler servicing help your home be more efficient?
Having a boiler service involves a qualified heating engineer coming round to inspect and run tests on your boiler. This inspection will bring up any issues in how your boiler is running, so the engineer can fix up any problems. The whole aim of a boiler service is to make sure your boiler is running as safely and efficiently as possible.
Boiler servicing is an essential step to making sure you have energy efficient heating at home. This is a simple but effective way to cut down on your energy bills, by making sure none of your heating is going to waste.
In short, less waste = less consumption = less money spent on bills!
You should get your boiler serviced every year to help make sure it's always running at peak efficiency. Usually, people get their boiler serviced in Autumn or in the run-up to Winter. To avoid long wait-times and skip the busy period, we recommend booking your boiler service during the Summer, or in early-Autumn.
What is a SMART home?
SMART homes have systems in place to monitor, record, and control energy usage. By monitoring and controlling your energy with SMART home features, you can make informed decisions to help cut back on your energy consumption. Another great advantage of SMART home features is that many energy suppliers offer cheaper tariffs for having these systems in place to accurately record your energy use.
The most common SMART home system you will generally find is a SMART meter, which measures your gas and electric. These meters keep track of the energy you use in live time, which means they can alert you when you begin overspending. Some SMART meters can even be set to cut off your energy supply if you hit a certain limit.
You can also get SMART systems that allow you to remotely control your home energy sources, like lighting and heating. Using app technology, SMART systems like Hive allow to turn your radiators or lights on/off when you're out of the house. This can help reduce your energy consumption by giving you more freedom to only use energy as-and-when you need it.
What are some sustainable home energy alternatives?
Switching to using more sustainable energy sources in your home can help to drastically improve both your energy consumption and efficiency. By making the most of sustainable or renewable energy sources, you will be less reliant on expensive fossil fuels. This will not only have a big impact on helping the planet, but it can also have a big impact when it comes to reducing your energy bills.
Options such as air source heat pumps and solar PV are great if you are looking to convert the majority of your home's energy into renewable energy. Another step you could take is switching to a greener boiler. Condensing boilers, electric boiler, or biomass boilers are much more sustainable than traditional gas boilers, and could help you save a considerable amount on your heating bills. An easy and affordable way to bring more sustainable energy into your home, though, is to switch your old halogen light bulbs for efficient LEDs.
Why should you watch your water usage?
For years it's been known that reducing the amount of water you use at home can have a positive impact on your monthly bills. In 2022 this advice is as relevant as ever – by simply watching your water usage you can help counter the spikes in both your water bill and your heating bill.
SMART meters can help you to monitor and restrict your water consumption, or you can take more regular readings of your water meter to make sure you aren't going over budget. Some small changes you can make are to spend less time in the shower, wash up instead of using a dishwasher (this will also help reduce your electric bill!), and be cautious of leaving taps running.
It's also important to address any leaks or drips in your home – a dripping tap can waste over 5000 litres of water a year alone! If cutting down on your water consumption is on your to-do list, then we recommend calling a plumber to fix any dripping taps or leaking pipes as soon as you can.
How does extra insulation make your home more efficient?
Insulate to compensate for less heating; adding extra insulation to your home allows you to use less heating during colder months. This small change can help to keep you warm in winter without suffering from astronomical energy bills, especially if you live in a draughty, older property.
Building regulations require residential properties to have a certain level of insulation, usually in the loft or walls, but there are other things you can do to add extra insulation to your home. A lot of heat can escape your property through the windows. Swapping your single-glazed or sheet-glass windows for double-glazed can make a huge difference in keeping your home warm. You will also want to make sure any draughty spots around your windows are patched up and filled in. Other cheap ways to insulate your home include buying draft excluders for your doors and swapping your curtains or blinds for thicker, more insulating alternatives.
Although it doesn't really count as insulation, our heating engineers also recommend bleeding your radiators regularly to make sure they are running efficiently. By letting your radiators pump heat into your home as efficiently as possible, and then having plenty of insulation to prevent the heat from escaping outside, you can really cut back on your energy consumption and bills.
So what's our number 1 recommendation for improving your home's efficiency?
To optimise the efficiency of your home, and cut back on those rising energy bills, we recommend starting with a boiler service. Book an appointment for one of our London-based heating engineers today.